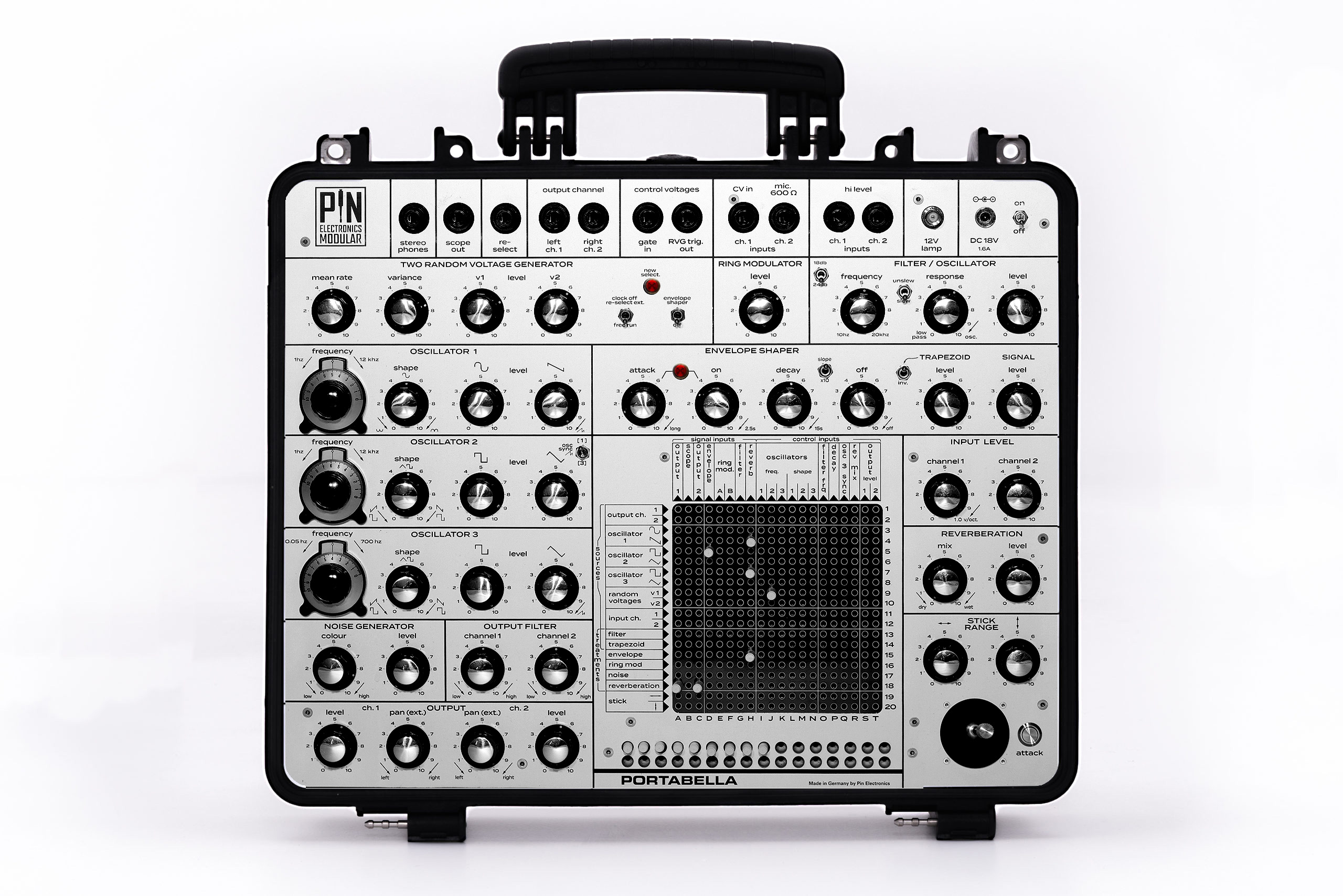 PORTABELLA MK IIIe
SPECIFICATIONS
OSCILLATOR 1
Range: 1Hz – 12KHz
Outputs: sine/ramp
Modifications: shape control via matrix (sine only)
OSCILLATOR 2
Range: 1Hz – 12KHz
Outputs: square/pulse,
Modifications: OSC Sync switch, shape control via matrix
OSCILLATOR 3 / LFO
Range: 0.016Hz – 700KHz
Outputs: square/pulse
Modifications: shape & sync control via matrix
NOISE GENERATOR
White and Coloured
RING MODULATOR
Transformerless integrated circuit
MATRIX
20×20 Ghielmetti Matrix 621
including 16 x 2k7 pins (white)
RANDOM VOLTAGE GENERATOR
Outputs: 2 random voltages
V1 & V2 and trigger
Range 0.2 – 20Hz
VC Selection (socket)
FILTER / OSCILLATOR 
A multi-purpose filter & sine oscillator
Range: 20 Hz – 20KHz
Modifications: slew/unslew switch
18dB / 24dB switch (new in Q2/22)
New 1969 filter design
SPRING REVERB
Decay time: 1.75 – 3.0 sec.
Springs: 3
Voltage control of mix "wet/dry" via matrix.
ENVELOPE GENERATOR
Attack: 2ms – 1 sec
On time 0 – 2.5 sec
Decay: 2.7ms – 18 sec
Repeat/Off: 10ms – 7sec. (max. rate 60Hz)
Trigger: +4V
Modifications: attack/decay time extension, inverter switch 
INPUTS
2 x 2.5 VDC (max) 50Kohm) (CV Ins)
2 x 5 mVAC into 600 ohms (Mic. Input)
OUTPUTS
2 x Mono sockets
1 x Headphones
1 x RVG TRIG out (10V spikes)
1 x Scope out
INPUT CONTROLS & CV/GATE 
1 x RVG re-select socket
1 x CV/ via CH1 pre-calib.1V/oct.
1 x Gate socket
DIMENSIONS
474 x 415 x 149mm
FRONT PANEL
Alu black/silver anodized
Chrome disc knobs from the 70s
WEIGHT
17lb / 8kg
EXT. POWER SUPPLY
18 V/DC 1670 mA 30W 90-240V
LAMP CONNECTOR
12V DC BNC max.100mA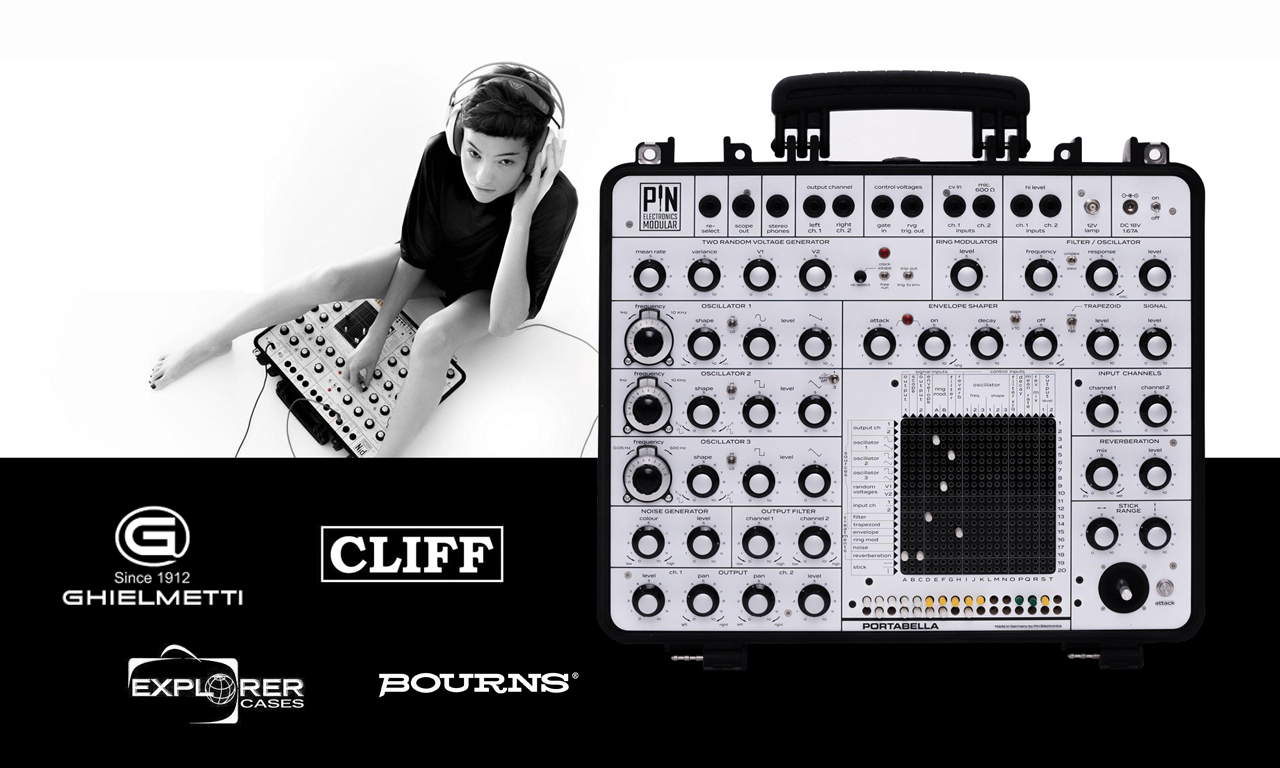 FREQUENTLY ASKED QUESTIONS
How do I order?
For all orders please use our contact form. Please provide a shipping address and phone number, so we can calculate shipping and handling charges.
What is the standard lead time
Our lead time is between 6-10 weeks for regular machines. Group buyings up to 6 months.
Do you have dealers or distributors?
No. All machines are exclusively available from Pin Electronics Germany only.
How many pins are included with regular machines?
All Portabella's are delivered with 16 white standard (2K7) pins.

I signed the group buy newsletter but did not received any email regarding the group buying?
You entered the wrong email address or did not confirm the email address via link.

Shipping & Payment
Do you ship to other countries? / International Orders
Yes, we accept international orders. The customer is responsible for all duties and taxes.
Payment Methods
Bank wire transfers only. All payments/deposits must be in Euro funds.
We recommend to use wise.com for international payments
Shipping Methods
We use FedEX for shipping only.
Service & Warrenty
First class Service for your Portabella & Product Lifetime Warrenty
In the pursuit of very high quality standards, all Portabellas are designed and manufactured with a long product life in mind. However in the unlikely case that your device fails to operate properly you can have it repaired or serviced by Pin Electronics / Germany. We charge return shipping cost only, all other repairs or services are for free.
General Questions
What is the difference between Portabella MKII and new MKIII?
The MKIII has no MIDI interface and comes with a standard pre-callibrated cv/gate interface.
Interfacing the Portabella
We recommend to use a Kenton Pro Solo MKIII for CV & Gate.

How to remove the suitcase lid

Lay the suitcase with the handle turned away in front of you on the table. Loosen the closures and open the lid of the suitcase to an angle of approximately 45 degree. Now move the lid to the left of the hinges to remove it from the case.
Where can I hear and see the Portabella?
You can hear some sounds and see short videos on YouTube and Instagram.
Do Portabella pins fit into the EMS Synthi or VCS3 matrix?
No, the EMS Synthi & VCS3 using a matrix by Sealectro with smaller pins. Our matrix just look like the old Sealectro.
PRICE, PAYMENT & GROUP BUY

The Portabella modular synthesisers are available directly from Pin Electronics
Portabella MK IIIe
Price: 6599 €
exc. VAT & 
shipping

FOR OUR NEXT GROUP BUY 2024  & OTHER SPECIAL OFFERS
Subscribe to our newsletter for the next group buy!