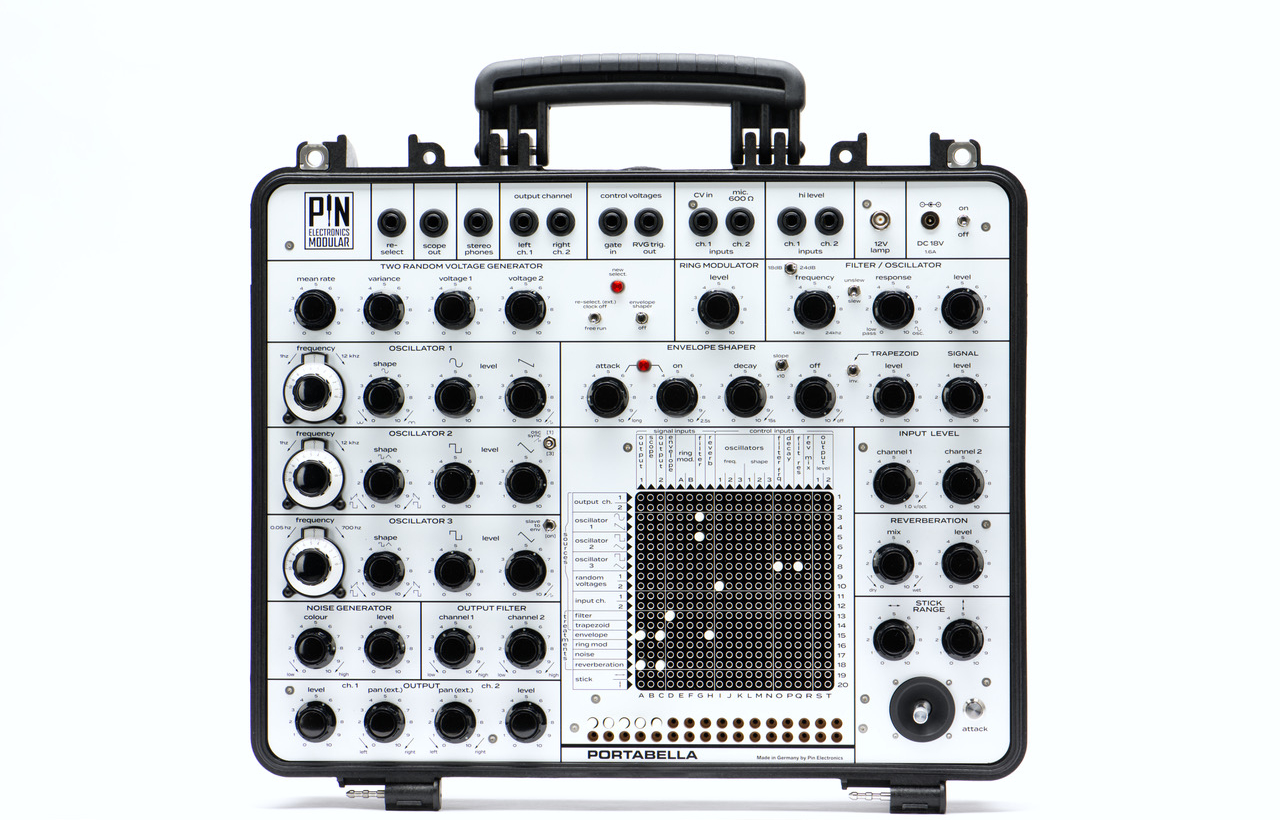 PORTABELLA 1969
Collectors ltd. Edition of 23 machines only!
lead time 4-6 weeks
SPECIFICATIONS / NEW! 
Price: 6999 € exc. VAT & 
shipping
OSCILLATOR 1
Range: 1Hz – 12KHz
Outputs: sine/ramp
Modifications: shape control via matrix (sine only)
OSCILLATOR 2
Range: 1Hz – 12KHz
Outputs: square/pulse,
Modifications: OSC Sync switch, shape control via matrix
OSCILLATOR 3 / LFO
Range: 0.016Hz – 700KHz
Outputs: square/pulse
Modifications: shape control via matrix
Slave to Envelope Gen. switch!
NOISE GENERATOR
White and Coloured
RING MODULATOR
Transformerless integrated circuit
Final stocked NOS TAB101
MATRIX
20×20 Ghielmetti Matrix 621
including 16 x 2k7 pins (white)
RANDOM VOLTAGE GENERATOR
Outputs: 2 random voltages
V1 & V2 and trigger
Range 0.2 – 20Hz
VC Mean Rate (via matrix)
VC Selection (socket)
FILTER / OSCILLATOR 1969
A multi-purpose filter & sine oscillator
Range: 20 Hz – 20KHz
Modifications: slew/unslew switch
18dB / 24dB switch
Resonance control via matrix!
SPRING REVERB
Decay time: 1.75 – 3.0 sec.
Springs: 3
Voltage control of mix "wet/dry" via matrix.
ENVELOPE GENERATOR
Attack: 2ms – 1 sec
On time 0 – 2.5 sec
Decay: 2.7ms – 18 sec
Repeat/Off: 10ms – 7sec. (max. rate 60Hz)
Trigger: +4V
Modifications: attack/decay time extension, inverter switch 
INPUTS
2 x 2.5 VDC (max) 50Kohm) (CV Ins)
2 x 5 mVAC into 600 ohms (Mic. Input)
OUTPUTS
2 x Mono sockets
1 x Headphones
1 x RVG TRIG out (10V spikes)
1 x Scope out
INPUT CONTROLS & CV/GATE 
1 x RVG re-select socket
1 x CV/ via CH1 pre-calib.1V/oct.
1 x Gate socket
DIMENSIONS
474 x 415 x 149mm
PANEL
Black and white silk-screened front panel!
Vintage black or chrome Cliff knob discs!
WEIGHT
17lb / 8kg
EXT. POWER SUPPLY
18 V/DC 1670 mA 30W 90-240V
LAMP CONNECTOR
12V DC BNC (max. 100mA)